Charlie:
We are carrying all our things with us as we walk. All the guidebooks emphasize how important it is to have as light a pack as possible. We got ultralight packs from Gossamer Gear. I have the Gorilla pack and Wynette has the Mariposa pack. This is what I am taking: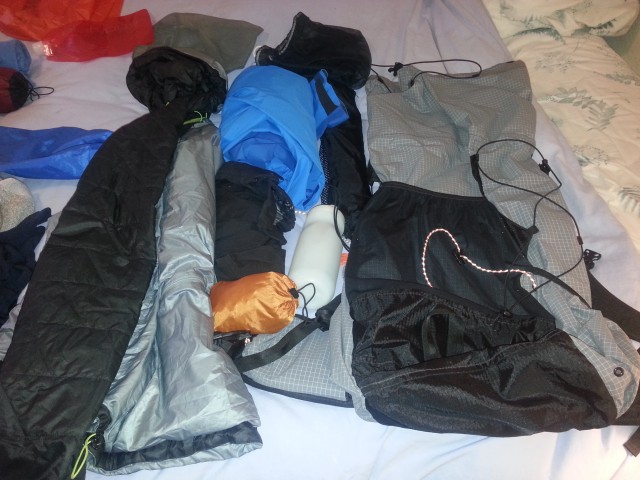 The pack, "bubble" jacket on the left, hiking poles beside the pack, blue rain jacket, rolled up rain pants below it, gold pack rain cover, water bottle, and the bags for the jacket and rain gear at the top.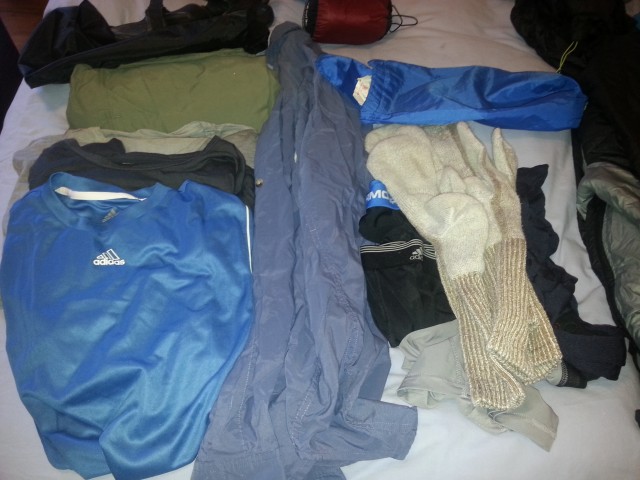 The pairs of socks and sock liners, three pairs of underwear, a long-sleeve shirt (plus one I will be wearing), two long-sleeve and one short-sleeve undershirts on the left, a pair of pants above it (plus the one I will be wearing), and bags to hold them.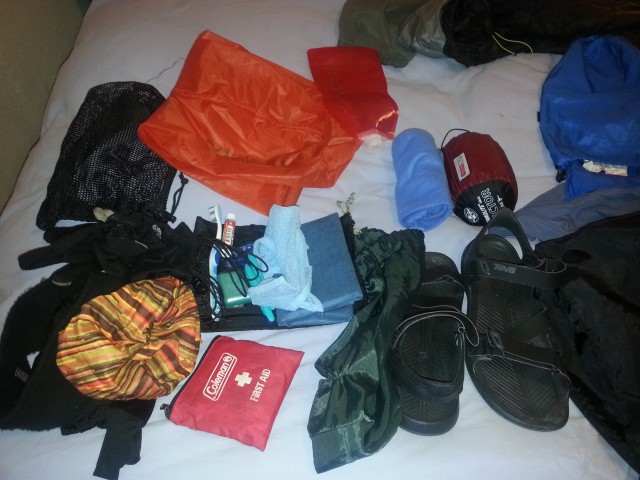 Extra shoes (Teva sandels) and bag, sheet-sleeping bad and pillow cover above them, toiletries including wash cloth and towel, on the left: ear band, gloves, and muff, first-aid kit, orange dry bag, and water bladder.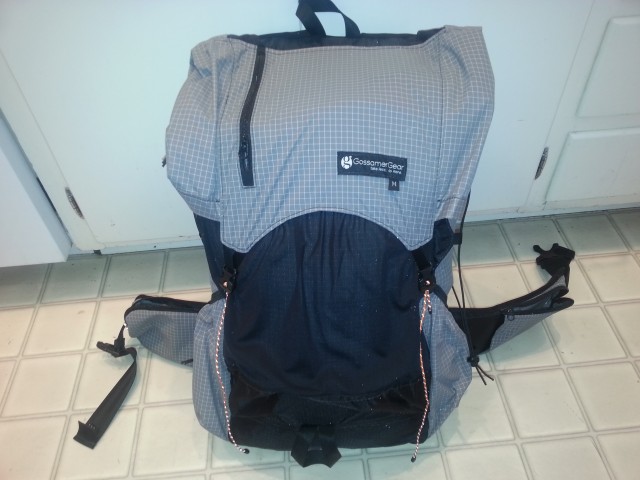 And here it all is inside the pack.
I am taking Brooke Ghost GTX (waterproof) shoes for daily hiking. We plan to wash underwear every day and the other things less often. They say the albergues have washing machines so we might be using those.
Since we are carrying all our stuff in our packs we wanted a minimum of electronic devices. We decided that we would each just carry a smart phone for all our needs. Charlie has a Samsung Galaxy Note 2 with 80 GB of storage. Wynette has a Nexus 4 with 16 GB of storage.
These will be our audio listening device (music and podcasts), our camera, our phone, our blogging device, our reading device (Kindle) and our web access device. All in 5 oz (Wynette) or 6.4 oz (Charlie). Obviously compromises are involved but we feel that the weight savings will be worth it.
We plan to get a Spanish voice/text/data SIM in Pamplona the first day. We plan to each get the Vodaphone Yu plan: 100 minutes, unlimited texting, 1.5 GB data for 16 euros a month.
Here are the apps we will be using: Smart Audiobook Player, BeyondPod (podcasts), Kindle (books), Google Reader (RSS, hey, it's not going away until after we get back), Pocket (reading saved web articles), NYTimes app, ABQ Journal app (keep up with ABQ), Google My Tracks (to keep track of each days walk), Google Maps, and gMail. And, of course, the built in phone, messaging, camera, and browser apps.