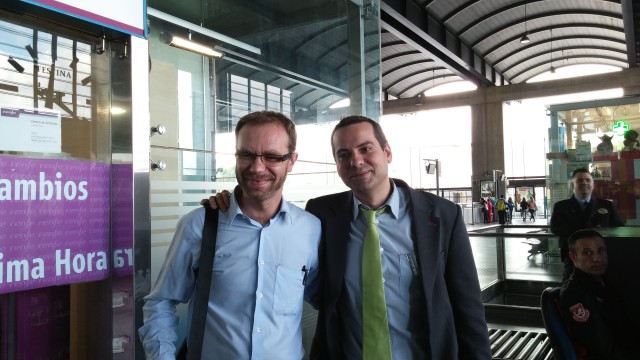 Charlie and Wynette: No chocolate factory tour but it does give golden agers 40% off on train tickets. We used it to go to Cordoba. We went to the train station to buy the return ticket and realized we had left the tarjetas doradas back in Sevilla.
The cards would only save us about 15 euros each but we went into the information place to see if there was a record of it. The nice man on the right tried for 30 minutes to get it to happen, assisted by the nice man on the left, but for all their efforts, no go. It seems that the tickets are not recorded nationally but each train station gives out its own.
Both men clearly worked past the end of their shift — note how our guy had removed his standard issue tie and jacket — but they kept on, cheerfully, trying to make it happen and were very apologetic when they couldn't.
Unfortunately we missed the next train trying to get this done so we took a (much less expensive) local that was fun and we did beat the next, next, fast train by 30 minutes. Even the local got up to 150 kph (90 mph), but it stopped more. The fast train tops out at 250 kph (150 mph).
The man went on about how beautiful Cordoba is (it was) but confided to us that things do not happen quickly in Spain. Good to know.