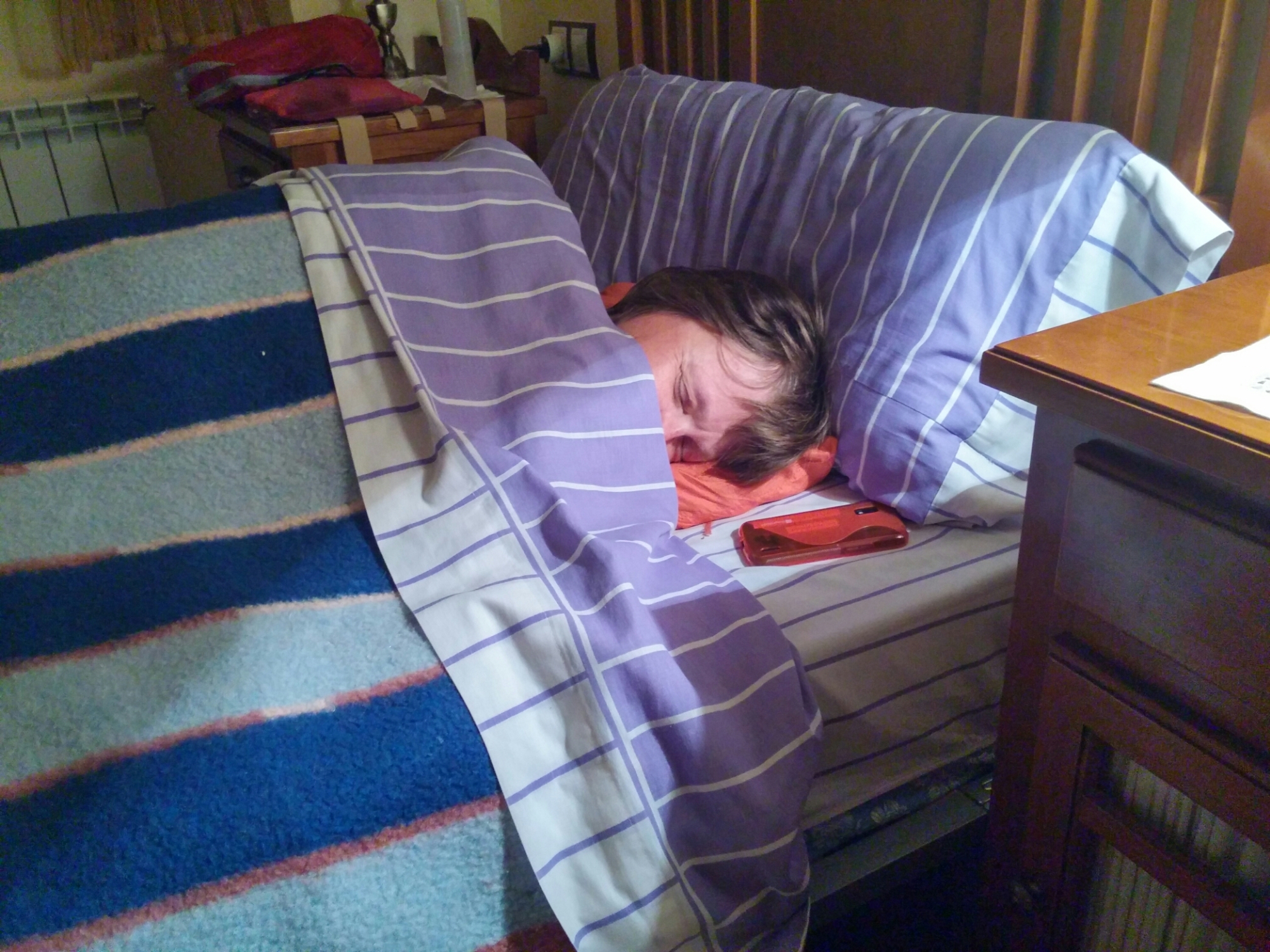 Charlie. Wynette is sick today. She made it 4.5 miles to Grañón but then she spent the rest of the day in bed feeling cold. We had cereal for lunch but she didn't want to go out for dinner. Despite my lack of Spanish skills I was the one to fetch some food, just some bread and cheese.
It was already after seven. I walked down to the little store (tienda) that had been so busy before and it was closed up. I looked at it sadly and turned away. Coming down the street was a local boy around 10 on a bicycle. He had seen me and mimed knocking on a door as he was going past. I said gracias. Still not sure I knocked lightly. I heard them unlock the door and open it. I asked if I could buy something and he ushered me in. His wife seemed to be doing the books and they seemed closed but he sliced me some cheese.
I pulled out my Spanish big guns and asked "pan?" He said in English that they had a bakery. I had seen the Panderia Jesus down the way but assumed it was closed. It wasn't. She sized me up right away and pulled out four loaves: cornbread, forget-what, white and wheat. I got wheat and it was excellent. I took it all back.
I wanted a bigger meal. The woman who checked us in said the bar above the farmacia had meals so I went there.
The place was  quite dark, a few old guys watching TV, and no one at the bar. A guy came out, more Charlie-Spanish "Menu?" After some dialog I didn't really understand I agreed to something.
No choices, he brought out a very good fresh mixed salad they are so good at, fresh lettuce, fresh tomatoes, olives, tuna, fresh red peppers. I smelled the meat being cooked. The second course was three breaded cutlets (veal? pork?), very good and clearly home made. Plus a great fried green pepper. And, thank God, no French fries! Melon for dessert. All for 9 euros.
I brought one cutlet and a little green pepper for Wynette. With that and the bread and cheese she had a good dinner too.
Everyone is always so nice and the food in these little places is always so fresh and good, and cheap.